THE LOFOTEN ISLANDS IN SUMMER
During the summer, this archipelago offers us unique outdoor experiences, which we complement with a fantastic stay in our magical and exclusive Lodge.
Midnight sun, mountains with alpine character, white-sand beaches and turquoise water, fishing villages and Viking culture … A few dream-like days during which you will discover the contrasts of nature in its purest form.
Two programs, two different experiences
The first one combines sea experiences with trekking excursions and it has been designed for families, couples or to enjoy with a group of friends. So that you do not have to worry about anything, all the activities suggested are included in the program price.
The second program is more focused on the mountains. Daily excursions are scheduled to discover the peaks on these fantastic islands. A high mountain guide will accompany you enabling you to reach summits, ridges and granite walls. To compliment the mountain activities, you will have the possibility to enjoy some excursions by boat, kayak or to go fishing (optional activities, not included in the program).
Our experience as organizers of tailor-made trips and our extensive knowledge of these islands allow us to make other programs to your liking, combining different experiences. From trekking excursions following ridges to the best-known peaks to climbing, mountain biking, fishing, surfing or kayaking.
A dream stay
You will stay at The Lofoten Playground Lodge, located in Henningsvaer, a beautiful fishing village that maintains the charm of yesteryear. It is an exclusive lodge for up to 10 people (plus the host and high mountain guide who will accompany you during the trip).
During your days on the Lofoten Islands you will enjoy an authentic culinary experience created by our Chef Johan Petrini. His role is to delight you with typical dishes made with local products at each meal.
Travel Benefits:
You will discover the Lofoten Islands and the wonders of this corner of Norway.
Active trip with outdoor activities.
Exclusive Lodge in Henningsvaer.
Meals created by our Chef Johan Petrini.
All transfers in Lofoten with driver.
Accompanying guide throughout the trip.
High mountain guide in the Hiking Lofoten program.
Discover our summer programs at Lofoten: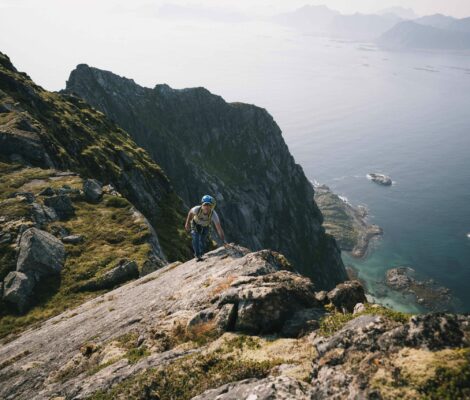 7 nights
from 2990€
Hiking holiday in Lofoten by boat. Includes full board and guide for the excursions. Summer in Lofoten 2023.