GOURMET DINNERS EVERY NIGHT
There is nothing better than arrive to the Lodge after a ski day and be able to enjoy an authentic dinner prepared with fresh and typical Lofoten products.
We offer you an exclusive menu every day, which includes typical specialties of the area such as cod roe or whale meat.
A delight for those who enjoy the good gastronomy.
Menu Type:
Starter: Semi-dry cod on green cabbage with bacon and parmesan.
Second course: Reindeer meat with baked vegetables.
Dessert: Multe (Arctic raspberry) cream with a crumble base.

At the Lodge we have a private winery so that our customers could enjoy a good wine if they wish.
GASTRONOMY IN NORWAY
The cold weather of Norway is an element to be taken into account in its gastronomic culture, based mainly on the raw materials available in the country.
If you are passionate about salmon, you will enjoy for sure! But as you have already seen in our menu, in Norway it's not all about salmon. Cod (the most typical fish in Lofoten), trout, shellfish, whale, mackerel, and also sardines and herring are some of the essential ingredients in Norwegian fish dishes.
The Meat lovers will also enjoy! The Norwegian cuisine has a good variety of wild meat dishes as moose meat, reindeer or various wild birds. These dishes are usually accompanied by tasty sauces that give them a special touch.
And, finally… desserts. In Norway it is usual to find red fruits as accompaniment of cakes and biscuits. You'll see that the size is somewhat smaller than usual, but the concentration of flavor is amazing. In addition to the confectioner's, in Norway is very popular rice pudding, vaflers (which is something like our waffles) and the "Multekrem", made with orange blackberries of the marshes (the reindeer's favourite fruit ) and whipped cream.
Bon appétit!
Discover our Lofoten summer & ski touring programs: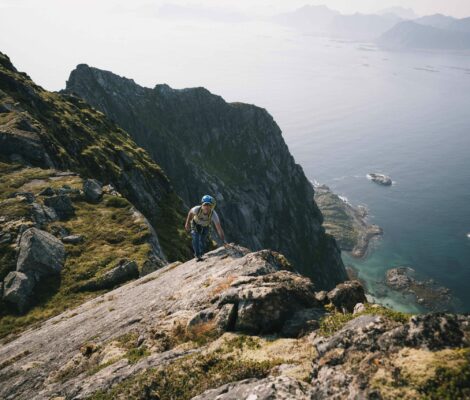 7 nights
from 2990€
Hiking holiday in Lofoten by boat. Includes full board and guide for the excursions. Summer in Lofoten 2023.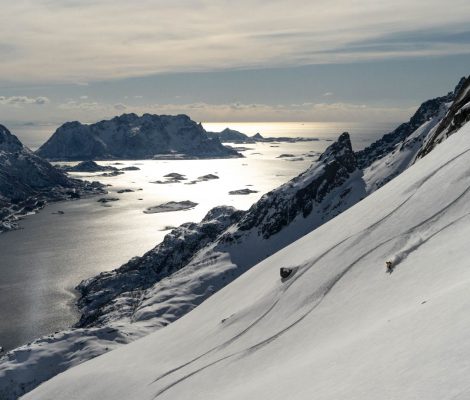 7 nights
from 4850€
7-night program in the Lofoten Islands to enjoy ski touring that includes exclusive boat trips through the Norwegian fjords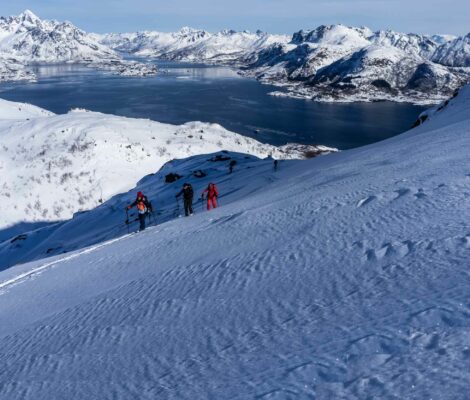 7 nights
from 3150€
Complete 7-night full board programme on the Lofoten Islands to enjoy mountain skiing in the Norwegian fjords with an IFMGA guide