ANDORRA, THE HEART OF THE PYRENEES
DISCOVER THIS SMALL COUNTRY AT THE VERY HEART OF THE PYRENEES, WITH ITS MOUNTAINS, VALLEYS AND VILLAGES. The Pyrenees are a mountain range in the north of Spain and south of France. Themountains begin on the shores of the Mediterranean, at "Cap de Creus", and continue to the Atlantic, ending in the Basque Country. Andorra is the hidden jewel of this mountain range.
Andorra offers perfect skiing; this small country has large ski resorts such as Grandvalira or Vallnord.
Grandvalira is an incredible ski resort with 210km of perfectly tracked slopes, and excellent services that have no reason to envy the world's best ski resorts. Andorra also has another great ski resort, Vallnord. Pal and Arinsal sectors are perfect family resorts, while Arcalís with it north-facing orientation is the ideal place for freeride.
Andorra is also an ideal place for mountain or ski touring
with many valleys that can be inter-linked, and with magnificent refuges that are open most of the year. Among them, the newly-opened "L'Illa" stands out, where, apart from sleeping in high quality surroundings, you will enjoy spectacular cuisine.
So, whether your thing is skiing on slopes, freeride or ski touring, Andorra offers everything in only 468km2 and an average altitude of 1,996m!
Let yourself be seduced by this small country that borders on the south with Spain — with the Catalan counties of Cerdanya, Alt Urgell and Pallars Sobirá— and on the north with France — with the departments of Ariège and Pyrenees Orientales (Occitan).
Andorra is the paradise of skiing, and other sports.
But we are not only talking about skiing and winter activities here, Andorra is undoubtedly so much more. An ideal country to visit and discover at any time of the year through other activities such as hiking, trekking, trail running, mountain biking or road cycling.
In addition, Andorra has 3 Natural Parks: Sorteny, Comapedrosa, and Vall delMadriu-Perafita-Claror, this latter being a UNESCO World Heritage Site.
The culture of Andorra: a small country with a lot of tradition.
In its streets, museums, churches and natural spaces, you can enjoy and discover its history. According to legend, the country was founded by the Emperor Charlemagne in 805, in recognition of the help given by its inhabitants against the Saracens.

Discover the Romanesque architecture of this small country that houses over 40 churches in this medieval style. Santa Coloma, San Miguel de Engolasters, San Román de les Bons, or San Clemente de Pal are just some of the churches worth visiting. There is also the Romanesque Andorra Interpretation Centre, with excellent pieces from all the churches in the country.

Apart from Romanesque, Andorra has many museums. Among them, the new Thyssen Museum, located in the old "Valira" hotel in Escaldes-Engordany, deserves to be highlighted, home to art treasures from the collection of Baroness Thyssen Bornemisza.
Andorra is the paradise of shopping and gastronomy.
Andorra offers a wide variety of shops: it's really a small paradise for shopping. It has from small, specialized boutiques, up to magnificent shopping centres, such as L'Illa Carlemany or the Pyrénées shopping centre.

Without a doubt, you will enjoy strolling along its main street after a day of activity in the mountains. And if you don't want to shop, why not just wander around and pop into one of its restaurants or bars to discover the country's cuisine and its Pyrenean culinary specialities.
Andorra offers a wide range of accommodation, but we want our programs to offer you accommodation that transmits our philosophy itself. For this reason we have carefully selected our partners in this adventure.
The Tarter Mountain Hostel and the Grau Roig Boutique Hotel. Two styles, two concepts, but the same passion for mountains
"When I first arrived in Andorra, I could not believe it: coming from Norway, landing in Barcelona and, after only 2 hours, finding myself in the middle of these mountains, with this snow and this incredible Hostel with all the comforts and charm, and the treatment by the owners … I was speechless and I really discovered an incredibly good place to ski"
Discover our Skiing, Off-Piste, or Ski Touring with our programs: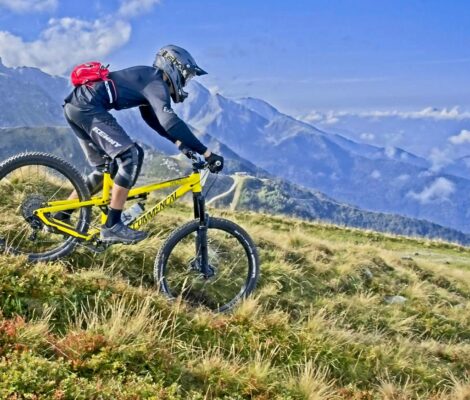 5 nights
from 395€
Discover the best enduro routes in Andorra accompanied by our guide, staying in a hostel with 5 star services.
Nuestros programas favoritos

ESQUÍ DE MONTAÑA - PROGRAMA EXCLUSIVE
Descubrirás las mejores rutas de enduro del país de los Pirineos, ¡algunas con desniveles de hasta 2.000m!

ESQUÍ DE MONTAÑA – PROGRAMA CLÁSICO
Descubrirás las mejores rutas de enduro del país de los Pirineos, ¡algunas con desniveles de hasta 2.000m!

LOFOTEN HIKING EXPERIENCE
Descubrirás las mejores rutas de enduro del país de los Pirineos, ¡algunas con desniveles de hasta 2.000m!

Descubrirás las mejores rutas de enduro del país de los Pirineos, ¡algunas con desniveles de hasta 2.000m!