ENJOY MOUNTAIN RESTAURANTS EVERY NIGHT

If you enjoy eating well, you'll have a great time in Andorra!
This small country has a wide variety of restaurants, whether in the ski resorts themselves, the different villages, or in the urban centre.
And best of all is the sheer range of the gastronomic offer. Here you'll find everything from authentic gourmet restaurants (even in the ski resorts), to charming "Bordas" (the area's mountain houses), with their menus of traditional mountain food; there are also restaurants with a menu of very elaborate dishes;
tapas restaurants in the purest Spanish style; Argentinean-style grills; restaurants with French influences, and so on. In fact, you could make a tour of European cuisine without leaving the borders of the Principality.
Andorran cuisine is, without a doubt, one that's packed with the aromas and flavours of the mountains.
The most traditional and well-known Andorran dishes are:
"Escudella" a traditional dish, eaten with a spoon, that's based on seasonal vegetables and pork and is usually served in winter and at popular events.
"Mountain trinxat" is another traditional dish, this one of winter cabbage, potato, garlic and bacon.
"Canelones a la andorrana", a variant of the Catalan dish, that mixes lamb, pork and chicken in pasta rolls, covered with béchamel and grated cheese.
Also very popular are dishes based on game meat such as civet de hare or wild boar, which are usually served in a stew with vegetables and mushrooms.
With such an offer of mountain gastronomy, it would almost be a sin not to include a gourmet experience in our programs. For this reason we offer you tasting menus in a selection of restaurants chosen for their top-quality produce, their typical dishes, or their location in emblematic places.
The Grandvalira ski resort, for example, offers us some of its restaurants for evening dinners where, in addition to having dinner, getting to them involves burning off a few calories! This is the case of the following restaurants:
"Iglú" Restaurant in Grandvalira
This is located at the heart of the Grau Roig sector, at 2,350 meters. It is 100% built of snow! A unique gourmet experience in a truly special setting and delightful surroundings, which make reaching it, by snowmobile, snowshoeing or mountain skiing, a great experience too.
"Refuge Llac de Pessons" Restaurant
After 25 years of high mountain cuisine, this restaurant offers traditional dishes, such as "escudella" or "trinxat", mountain rice dishes and the best grilled meats with wagyu beef.
A restaurant on the slopes, but that you can also enjoy at night after a day's skiing. They offer a delicatessen menu with upmarket products that will satisfy even the most demanding palates.
As lovers of good gastronomy, in addition to these restaurants located in the Grandvalira ski area, we have been discovering other restaurants in Andorra that we love. Some of our favourites are:
Cort de Popaire Borda Restaurant in Soldeu
This restaurant is located in Soldeu itself. The building, a 'borda', is amazing, as is the quality of its dishes. Their specialities are game dishes and grilled meats, although they also offer succulent
homemade dishes, Andorran and market cuisine, among other specialities.
Borda de l'Horto
This restaurant, which has excellent service, is an ideal place to enjoy good cooking in relaxing, peaceful surroundings, in a rustic and cosy space.
It offers a menu with market, Andorran, and homemade cuisine. Another highlight is the wide choice of grilled meats.
La Llar de L'Artesà Restaurant
Another magnificent borda, which offers exceptional food.
If your mouth is already watering, don't wait another second!
Discover our Skiing, Off-Piste, or Ski Touring with our programs: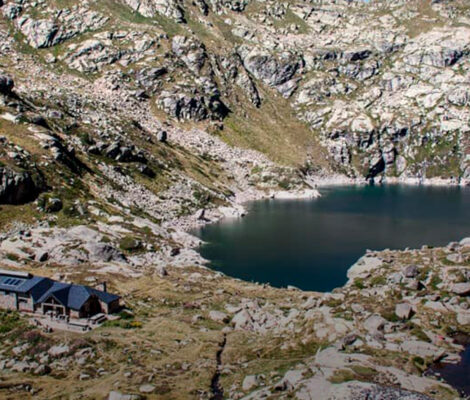 4 nights
from 345€
5 days of hiking to discover the best of the mountains of Andorra thanks to a circular route with stages of about 20km a day.