Svalbard, Norway | Level: Medium
Svalbard is an archipelago located in the heart of the Arctic Ocean, far north of the European mainland, and belongs to the Kingdom of Norway. It consists of a group of islands ranging between 74 to 81° north latitude and 10 to 35° east longitude, forming the northernmost part of Norway.
For centuries, many travelers have been attracted by the polar climate and wildlife, as well as by its exceptional wilderness and singular cultural heritage such as the old mines. The main town is Longyearbyen, an amazing place which, albeit remote, offers an international atmosphere, with visitors hailing from different countries, but also exhibitions, concerts, festivals, and a wide variety of traditional restaurants serving whale, reindeer or seal meat and locally crafted beer. From Longyearbyen, we will sail to discover the surrounding nature and the skiing potential of its mountains, always in the company of local guides, as Svalbard is famous for being the home of the polar bear.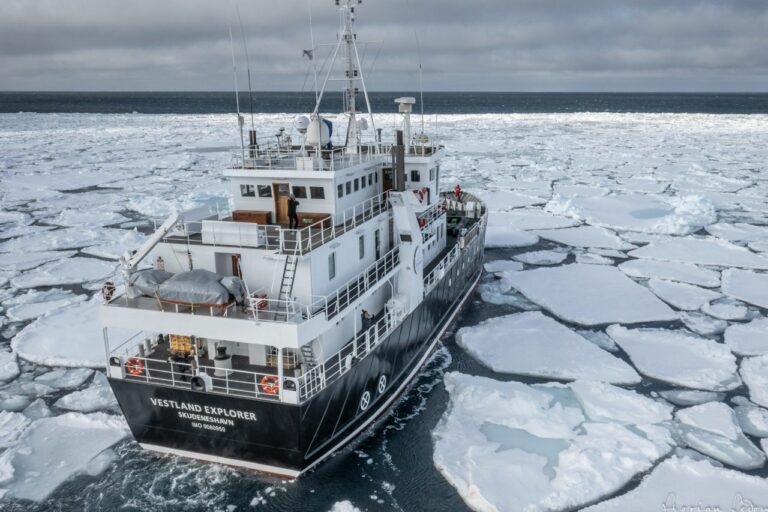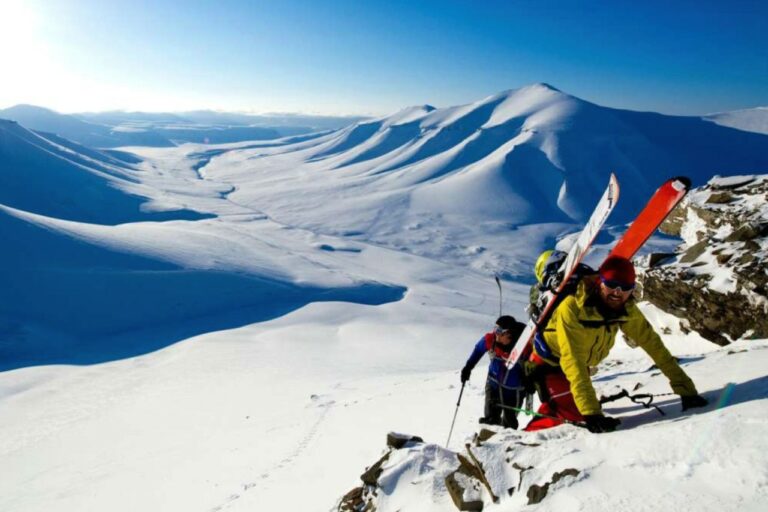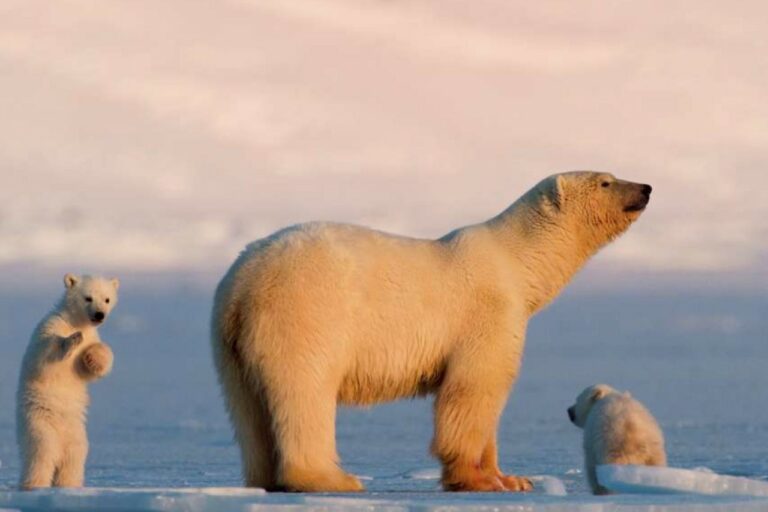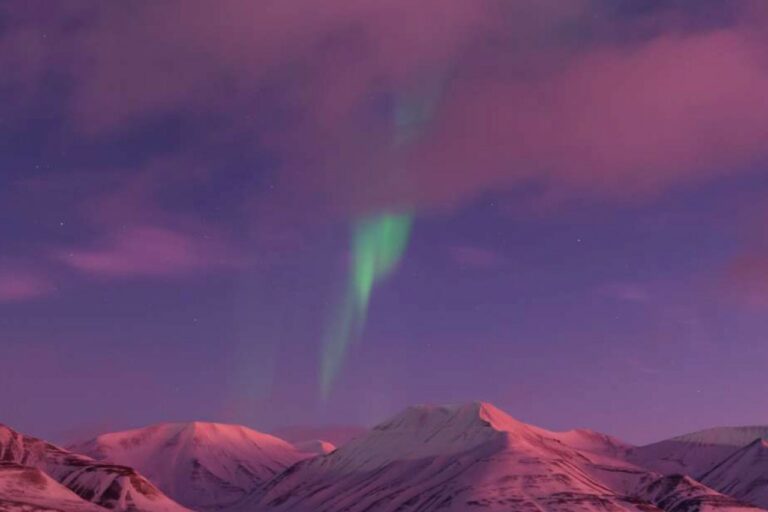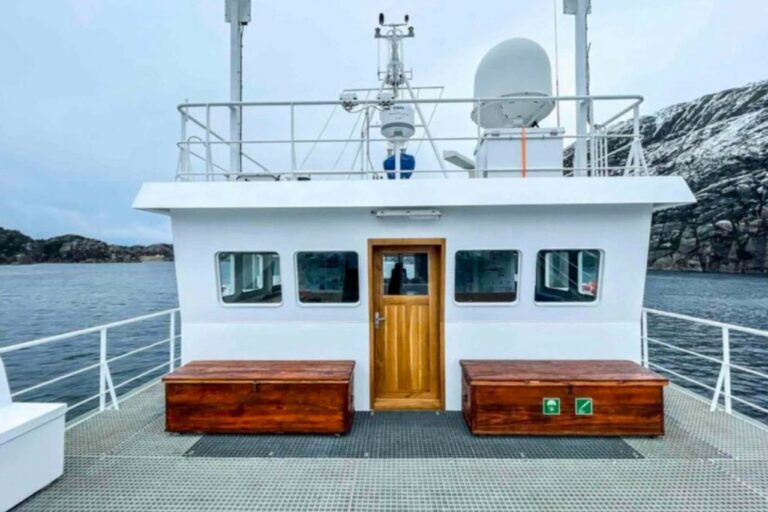 " Svalbard is as close as most mortals
can aspire to be to the North Pole
without missing its spirit."

«  Svalbard » means « cold coasts » in Norwegian. Compared with other areas sharing the same latitude, its climate is surprisingly mild, due to the warming influence of the North Atlantic Current. The midnight sun in the summertime and the Northern Lights during winter give this place two completely different facets. This is why we plan our ski trips in May, as it turns out to be the best compromise in terms of light and temperature both for visiting and ski touring. Whaling and mining have traditionally been the two main economic sectors of the islands. However, nowadays, tourism almost surpasses these last two. Svalbard's nature is undoubtedly harsh, but also fragile at the same time. This is the reason why two thirds of its surface is a protected area. Today, Svalbard is a certified sustainable destination, a recognition that is awarded only to places that relentlessly work to reduce the negative effects of tourism. This is why we, at Outnørd Travel, work with local companies.
Tailor-made stay
A group of 6 to 12 people
8 days / 7 nights + full board accommodation on the 46.5 meter M/S Explorer, a polar ship completely refurbished in 2021, originally built to be able to sail between sea and ice.
6 days of ski mountaineering activity with 3 mountain guides trained for this objective (1 expedition leader and UIAGM guide + 1 UIAGM guide + 1 SNMSF guide).
2 Zodiac boats for departures and land approach.
Port and entrance fees to Svalbard.
Not included :
Round trip flights to Longyearbyen. Outnørd Travel collaborates with an IATA agency for the issuance of flights and we can help you with logistics.
Hotels, meals and/or transfer to Longyearbyen, in case of an overnight stay before and after the M/S Explorer.
Transfers.
Drinks : alcohol and extra drinks.
Assistance and repatriation insurance (mandatory).
We also provide :
Rental of Kästle skis and safety equipment (with an extra cost).
This program offers the experience of staying in a scientific ship totally adapted and refurbished for this activity where comfort meets the highest standards, not only regarding its rooms but also its common areas, both indoors and outdoors. On top of that, you will be delighted by an incredible gastronomy.
The ship, an accommodation offering the ultimate in comfort
The M/S Explorer is a polar vessel type A1. It was built in 1994 as an oceanographic expedition vessel to Greenland. With 46.5 meter long and 10.5 meter wide, the Explorer was designed to sail between sea and ice.
The ship was completely renovated in 2021.
It features a spacious panoramic lounge, a gym, a sauna and a jacuzzi to relax after skiing. It also provides a large outdoor space on the bridge with a bar area from which you can enjoy stunning views. Its rooms range between 14 and 17 square meters, depending on whether they are single, double rooms or suites.
10 years of experience.
Trips designed and carried out by a passionate team.
Programs in a carefully selected environment with outstanding routes.
Exclusive gastronomy and accommodation.
Professional organization.
ARCTIC NATURE
The kingdom of the white bear
FLEXIBILITY
Routes adapted to weather conditions
EXCLUSIVE BOAT
High-end accommodation and gastronomy
TEAM
Professional and passionate about skiing and ski touring